Libra Solar Eclipse opp Chiron | Escalate or De-escalate?
Libra Solar Eclipse
21 degrees Libra
Saturday, Oct 14
10:55 a.m. PDT / 1:55 p.m. EDT

The LIbra Solar Eclipse disrupts the normal order of life in order to clear the way for a fresh pathway to emerge. It's occurring in the aftermath of the explosive Mars-Pluto square, which has inflamed powerful forces of dominance. Now more than ever, we need Libran diplomacy and cool heads to prevail, however, we could vacillate between indecisiveness as we attempt to be fair judges of the truth.

The eclipse is conjoined the South Lunar Node, opening a portal to the past - past allies, partners or relationship patterns can either lend a helping hand or remind us of shadows that need resolving. The days leading up to the Oct 14 solar eclipse may be especially laden with the need for solitude and closure in order for space to be primed for renewal. We may feel in the dark and unable to make important decisions, however, in time, profound insight will be revealed.

Mercury in Libra conjoined the solar eclipse puts an emphasis on communication and seeing all sides of an issue, which can lead to indecisiveness and confusion. Often, an eclipse with Mercury can distort information or truth, exemplified by the online world which is rife with misinformation becoming amplified. If you find that you feel ignored or misunderstood, perhaps the lesson is to do more internal reflection or deeply listen to others for what truths they are trying to convey.

Chiron in Aries opposes the Libra solar eclipse which indicates that the wounds that others present to us becomes a focal point, as well as our own wounded egos. Chiron in Aries is the wounded warrior and the more we act out in retaliation from a place of vengeance, the more we increase harm in the collective. If we can meet others with a measure of vulnerability, it can garner deeper compassion and understanding. Try to see ourselves in others, rather than enemies everywhere.

Mars, newly in Scorpio at the time of the eclipse is stealthily determined to find a way to achieve their motivation. Endless debates and arguments in an attempt to find common ground may give way to retreating into one's own private sanctuary to plot a solitary plan of action. Ultimately, the best course of action is to find a way to de-escalate the heated atmosphere in order to consolidate our own energy toward more worthwhile pursuits.

Venus in Virgo rules the eclipse, and as she's in the sign of humility and service, we may want to take some practical steps, however small, in order to serve the repair of our most cherished relationships. Venus is in the sign behind the eclipse which suggests retreat, escape, and acts of kindness that we may not necessarily need to take credit for. Virgo enjoys self-improvement so this is an excellent time to make adjustments to improve our health and our ways of relating.

On October 28, we have the final eclipse in the Taurus-Scorpio axis with a Taurus Lunar eclipse aligned with a potent Mars-Jupiter opposition, which will be eager to take flight.

Save 50% on all my eclipse courses with code ECLIPSE23 until Oct 21.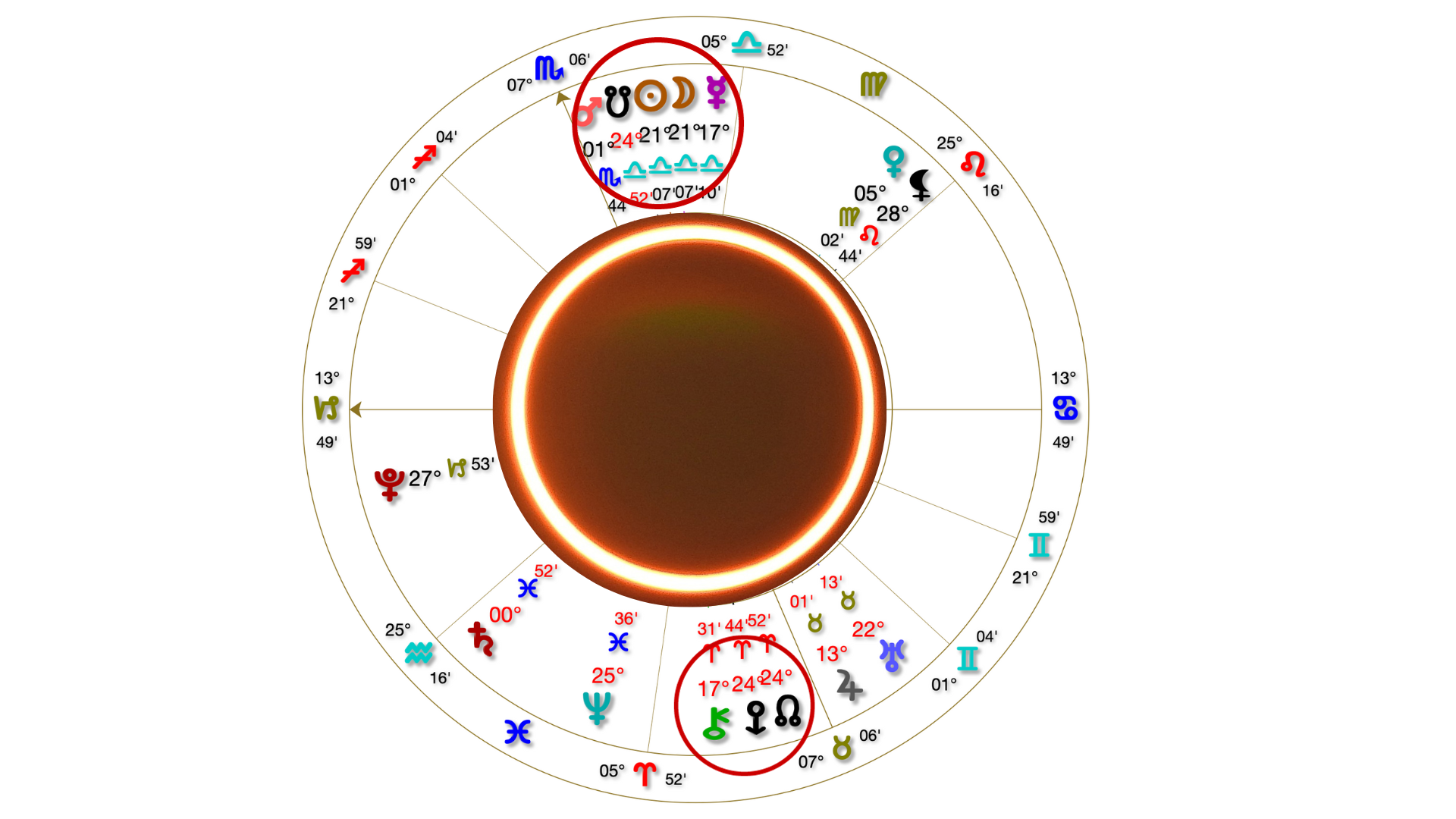 Stay connected by signing up for the Radiant Astrology Newsletter